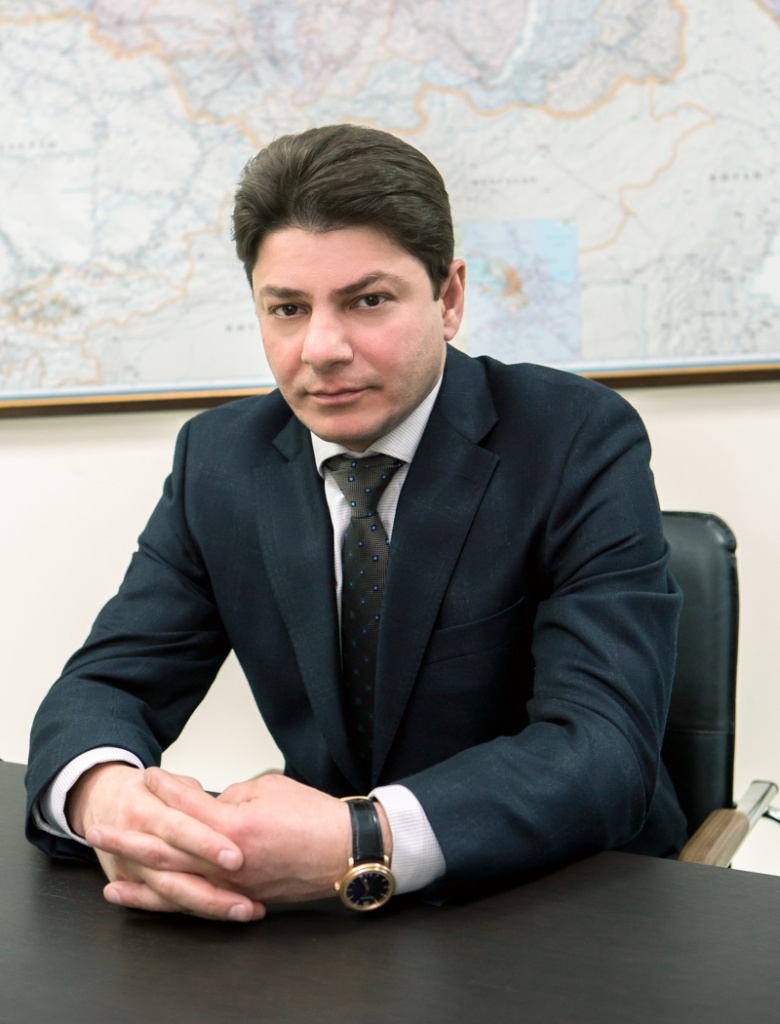 Director of "Global Gas Regazification" LLP, Panayot Saulidi
In early January, the media reported that Global Gas Regazification LLP (partner of "Gazprom Export" in Kazakhstan) planned to put into operation in Astana six regasification stations that would recover natural gas from liquefied natural gas supplied from "Gazprom Transgaz Yekaterinburg" LLC production plant by motor transport. Director of "Global Gas Regazification" LLP, Panayot Saulidi, shared in an interview to "Къ" his ambitious plans for gasification of the capital.
– Please tell us about your project of gasification of the capital
– Astana is the capital and special city, which economy, comfortable living and environment requires advanced technology, infrastructure and, of course, gas. If the technology and infrastructure in this town are successfully developed, the gas is more challenging. Now there is no natural gas in Astana. Distance between two points in Kazakhstan may be very long and main gas pipeline is not available to date in all regions of the country.
To be honest, what we have in mind, the Government of Kazakhstan have thought over much earlier: in 2014, it issued a decree, according to which the Astana city and northern regions of Kazakhstan were expected to be gasified at first using the liquefied natural gas technology (LNG). It was then that we started searching for partners able to produce LNG, as no such technologies are available in Kazakhstan yet.
Today we have plans to build a total of six regasification stations at the sites identified for these purposes by local administration (Akimat) of Astana. These stations will be supplied with liquefied natural gas, which will be converted using proven methane gas technologies, traditional to all consumers.
I would like to clarify why the choice was made in favor of liquefied natural gas technology among other options. The process of LNG gasification is realized much faster and cheaper than if we built the main pipeline. In order to gasify Astana by traditional to all method, approximately half a billion dollars are required, while implementation of our program requires not more than two hundred million dollars. Agree that this is a very big difference.
As for deadlines, then we started construction and assembly operations in summer, and today we are completing pre-commissioning works and ready to supply commercial gas. These terms are incommensurable with the enormous time needed for construction of main pipeline, involving numerous justification procedures, approvals and construction itself.
Certainly, traditional to all main pipeline will be laid one day. Then our gas network will be tied in to the main gas supply system and our regasification stations will smooth out daily and seasonal peaks of consumption. Additionally, the station equipment is mobile enough and it is easy to dismantle and transport them to another location.
– What are LNG characteristics representing a fuel product?
LNG is a conventional natural methane gas supplied to the south of our republic. Only in our case, the gas is pre-cooled to -163°C. During this process, it is cleared of unnecessary combustion impurities, cleaned of sulfur to required level and purified of nitrogen impurities, thanks to which the gas becomes slightly better than normal pipeline gas. In special cryoprotective tanks it may be transported to long distances. In our case, it is transported by motor road.
In addition, I can say that there are no so many companies producing LNG. In Russia, it is only our partner - "Gazprom Transgaz Yekaterinburg". They have the designs, drawings, designers, and considerable experience: they built the plant based on GRS-4 (gas distribution station) in Yekaterinburg that liquefies natural gas.
– What niche you want to occupy in the Astana market?
– At the moment we have three groups of potential consumers. First, these are municipal and industrial enterprises. Second, it is an autogas, i.e., conversion to transport gas fuel mostly for special machinery and passenger transport. The third trend is gasification of individual Astana districts private house buildings.
If the first two groups are to a greater extent of commercial interest after the environmental matter certainly, then gasification of private sector involves a high degree of government participation - from initiation to dotations.
We look forward to completing the gasification program until 2021, as a result of which it is planned to supply up to 300 thousand tons of liquefied natural gas per year. This is quite an ambitious goal, and in order to do this, you need to work hard. In the first stage, we have signed an annual contract with "Gazprom Export", having the exclusive right to sell LNG abroad from the Russian Federation. It is expected that the first project phase will show good results, and we will sign next year a long term contract, which will allow us to implement all the plans and take at the heat power market of Astana a sound place.
– What is the volume of supply planned on the contract between "Gazprom Export" and "Global Gas Regazification"?
In 2017, contract for five thousand tons was signed. In each successive year it is expected to increase the volume of sales and, consequently, supply. In 2017, we will expand the existing gas network just for the municipal and industrial enterprises. In 2017, we also plan to start cooperating with "Astana LRT" LLP for LNG supply for motor transport as a motor fuel. We have already signed memorandums between our company and local administration (Akimat) and we both understand current situation and prospects of cooperation. Probably we will launch a pilot bus in the near future. Further, with the direct participation of the State, we expect that the first 500 private houses will spend winter of 2018-2019 being gasified. By 2021, we plan to increase volume of sales to 300 thousand tons of liquefied natural gas per year.
– You constantly say that you rely on the State support. In what format do you see it?
– Yes, I would like to focus on this issue in more detail. The State involvement does not necessarily mean financial investment; the State has an administrative resource, the support of which we would like to attain. The State and municipal officials define vector of development of many businesses, institutions, and environmental organizations, indicating priority areas, for example, reduction of harmful air emissions. And we, in turn, have a tool that will allow you to solve some pressing environmental problems of the North Kazakhstan cities.
– Please share your plans for gasification of Astana.
– Methodically this year we will have connected enterprises that have applied for the development of technical conditions: University of Defense, "Kazakhstan Garysh Sapary", Nazarbayev Intellectual schools, as well as those institutions that are at the moment on the pipeline route from "Turan" gasification station to the Nazarbayev University.
This year we also plan to feed gas to the sports facilities, which are located just south of the EXPO track, "Alau" and "Astana-arena".
Undoubtedly, we have planned the second and third phases of construction. There are consumers who have already applied and there is a group of potential consumers. Unfortunately, we are unable to supply gas to all those who wish at once. At the first stage of construction, we still do not have enough infrastructure and production facilities.
To date, we have purchased twelve tanks for LNG transportation. We have built complex at the intersection of anticipated streets E-56 and E-65 in the Astana Solar area. At "Turan" complex, commissioning works are being completed now. Five kilometer long gas distribution pipeline has been laid to the Nazarbayev University.
In 2017, we will build and startup the second gasification station "Telman" furnished with fixed storage tanks for storage of two hundred tons of LNG. We expect that it will be supplying gas to the central clinical hospital and a number of other facilities. Commissioning of the second station will increase performance of our system to twenty-two thousand cubic meters per hour. Each of constructed stations will have a capacity of fifteen thousand cubic meters per hour.
– What means are used to fund the Astana gasification program?
– As you might suppose, the financial issue within the framework of our project, which is in the initial stage of development, is acute. The difficulty lies in the fact that today the development institutions and banks contribute only on the condition of impressive financial participation of project founders. At the moment, we are at the stage of signing of the agreement with DBK-Leasing on the first two phases of project implementation.
I can say that everything is not as smooth as we would like. But we did not expect that it could be just because it is unique project in its own way. Especially in Astana and northern regions of Kazakhstan no one knows about this product. Today, Global Gas Regazification is a young company with ambitious goals, facing a monopolistic market with an innovative product. Obviously, it often happens that potential investors do not perceive us as a serious gas supply organization. Meanwhile, we are talking about the system of distribution pipelines; and it means a constant uninterrupted supply of natural gas in the city facilities and in the future –throughout the region. It is a system of pipelines, which can be used by the national gas operator or any other operator that will in the future supply gas through the pipeline.
On January 30 in Yekaterinburg, a solemn launch of the first batch of gas in Kazakhstan and opening of the project in Russia was hold. On 8 February, we officially opened "Turan" station in Astana. I hope that after this, the status of our project will change not only on paper, but in the minds of potential partners.
Astana is the first project. Further we are planning to gasify the whole of North Kazakhstan facing environmental problems similar to ours. It is important to note that the closer is our site to Russian Federation border; the lower can be the LNG price due to differing logistics conditions and costs. We plan to keep the prices within 30 to 50% of economic benefits compared to diesel fuel. But, of course, it depends on the viewpoints of "Gazprom Export". We have done a great deal of work with our partner to be able to deliver gas to Astana at a price comparable with the LNG prices in Russia. It is also likely that our final gas prices for consumers will depend on the volumes of urban and public investments. For example, the road to our complex and pipeline we built for own funds, and, of course, these costs will be taken into account at calculation of economic model, net cost and our market offer.
– You are not afraid of currency risk? Equipment is probably purchased in dollars, and ruble is now more expensive.
Foreign exchange risks were estimated and for today we do not depend on the dollar exchange rate. Therefore, the parity existing between tenge and ruble acts as the main criterion and I think, it will remain in the range of 5-5,5 tenge. Our Russian partners fix their own prices exclusive of exchange rate.
Some equipment we have purchased in China; these are tanks for LNG transportation. The rest of equipment is Russian, so the risks on this matter are minimized. In addition, equipment supplied from Russia in the future may be manufactured by us at Kazakhstan enterprises. Our plants are capable to produce most of equipment operated at our stations this year. This can be, for example, "Belkamit" plant in Almaty.
– What is the interest of the Russian party in the gas supplies to Kazakhstan?
– There are no issues from the Russian party about trading and profit extraction as such. It is in their interest to start and develop this area. Nowadays LNG is poorly developed in Russia as a product or as a supply system. But the distances in Russia between the cities are comparable to ours and even longer, and the main gas pipelines cover only 45% of the entire area, as in Kazakhstan. Accordingly, all technologies proven in the Republic of Kazakhstan in the future may be used in Russia.
Many people are concerned about the risks associated with the issue of uninterrupted supply of LNG, often asking questions such as: "what if tomorrow "Gazprom" ceases selling gas?" Answer: political aspect is present always and everywhere. However, in international relations there is a global cooperation between suppliers of heat and power complex. Moreover, we are bound by the contract, which, of course, stipulates certain sanctions that may be applied to either party.
– Back to the question of ecology: how soon you plan to convert private sector from coal to gas?
– At the moment we are not forcing our partnership with individual consumers. We are required by law to ensure continuity of gas supply, but today we cannot give any guarantees, as we are our project at the initial stages; our business processes are not perfected yet. All businesses are required by law to have reserves for any other fuel, but this law is not applicable to the private sector. Until 2018, we plan to adjust all the processes and to establish an uninterrupted supply sufficient to cover private consumption volumes.
– Will you work with three Astana combined heat and power stations?
– We do not plan to work with combined heat and power stations, but we plan to work in the industrial zone of Astana. We already have a site for construction of "Industrialnaya" station.
It is financially costly to convert combined heat and power station from coal fuel to gas, unlike diesel boiler. For this, it is necessary to build a new combined heat and power plant, a complex of facilities, allowing the use of gas fuel in the existing infrastructure. Then, for power plants, main gas pipeline is needed and this is about a state program. Therefore, combined heat and power station is not our consumer. Our customers are small boiler houses using diesel. We intend to apply to such boilers program of coal nonuse; environmental funds make allocations for this.
In conclusion I want to say that environment is the first and foremost issue, what we think about and address when implementing our whole program and each specific project. The last smog over the city once more showed that in windless weather, we will be facing an ecological disaster, if we don't change our attitude to the combustion products and environmental emissions.
Source "Курсив.kz"